Participation in individual courses outside the CORE curriculum path, such as INTRO and PLUS courses.
Single registration in core curriculum courses on a one-by-one basis (paying for each level as you go).
After completion of respective CORE coursework, CERTIFY courses allow you to earn level certification.
The Complete Masters Certificate Program (CMCP) offers significant savings for a full program.
Enrollment Guide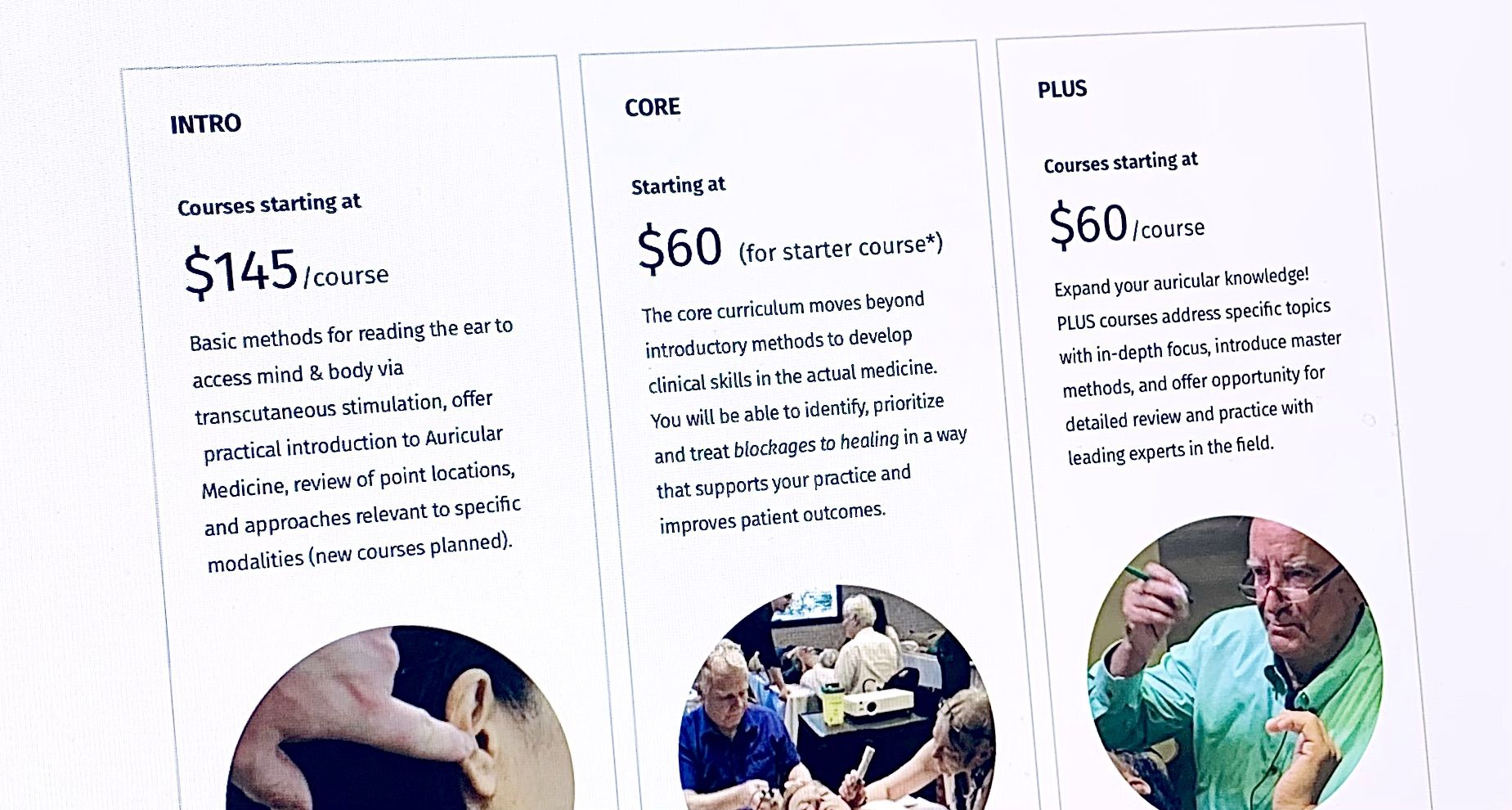 Courses, for the enrollment options listed above, are organized into 6 categories presented below — covering all aspects of Auricular Medicine.
In light of its basis in neuro-auricular stimulation, measurement of autonomic (ANS) output, and acuity in the application of therapeutic frequencies, Auricular Medicine offers a comprehensive starting point for your continuing education in healthcare or wellness practice.

Depending on your familiarity, you can get your ears wet in an INTRO course, or advance your CORE knowledge with PLUS courses.

Graduates of the Canadian Institute of Auricular Medicine (CIAM) are using auricular insights to prioritize treatment approaches and break through the walls presented by their most challenging cases. CIAM's hallmark is the distinctive CORE curriculum providing students relevant clinical skills directly applicable in their practice.

COST & COURSE CATEGORY DETAILS BELOW
INTEGRATIVE.
It's how we think.
Because reflex zones on the ear offer neurological insight into what ails the body, the ear is is the greatest tool every patient already brings you — which you can use to
support your practice:
Psychology: new/additional approaches for polyvagal regulation
Manual Therapy: priming the nervous system for tissue release
Acupuncture: pulse-guided techniques for added point finding precision
Natural Medicine: support for enhanced adrenal function
Nursing: improved efficiency in healthcare approaches
CORE CURRICULUM.
It's how you gain expertise
Several shifts are happening in healthcare, including an increasing recognition and use of neuroscience, neuro-auricular stimulation, biophysics therapies, the mind-body relationship, resonance for homeostasis, and medical frequencies. These shifts require ever more expertise in these areas — areas between which Auricular
Medicine is a useful bridge for insight and integration.
Courses starting at
Basic methods for reading the ear to access mind & body via transcutaneous stimulation, offer practical introduction to Auricular Medicine, review of point locations, and approaches relevant to specific modalities (new courses planned).
No pre-requisites

Practical methods to try in your practice

Low time investment

Only $60 for the Ear Point Guide offers you Institute access to student forums and more.
Range
$870-$995
The core curriculum moves beyond introductory methods to develop clinical skills in the actual medicine. You will be able to identify, prioritize and treat blockages to healing in a way that supports your practice and improves patient outcomes.
Only $60 for the Ear Point Guide gets you started in CIAM's highly-endorsed core curriculum

Options for 3 Levels of learning ($870-$995/course)

CORE programs fulfill requirement to CERTIFY

Available course bundle discounts
Courses starting at
Expand your auricular knowledge! PLUS courses address specific topics with in-depth focus, introduce master methods, and offer opportunity for detailed review and practice with leading experts in the field.
Auricular Connections options for Q&A support at your level of practice

Access to leading experts in the field

Course bundle discounts

FREE training resources
Course cost
The opportunity to apply your learning and receive detailed feedback on your patient cases — and earn certification at your level of practice.
Personal clinical practicum advisor

Join the global network of certified practitioners

Access to case study database
Course cost (still in development)
FREE
Instruction and/or tips on the use of many auricular tools and materials that often do not otherwise come with instructions.
Links to materials

How-to guidance
Program cost
$2470
10 courses. 1 comprehensive learning path. Enroll in the Complete Masters Certificate Program for significant savings in your auricular education.
The complete CORE

All CERTIFY practicums for complete certification

Supporting PLUS courses to help solidify learning
Introductory Resources
Sit in on select course sections without cost or obligation
Still undecided? Ask yourself how you might apply new clinical skills to affect pain memory, access psychological triggers, and follow specific neural connections to underlying connections.
The CIAM
Level 1
online course features instruction presented and recorded live at the prestigious
Yo San University
in Los Angeles. This instruction has been combined with interactive video elements, self-assessments and additional resources for one of the most comprehensive learning experiences available anywhere in the field of Auricular Medicine.