Level 1-equivalent: Master the Science of Neuro-auricular Pain Abatement + FREE Ear Point Guide — 29 CEUs
Oct 28-30, 2022
presented at the Chicago College of Oriental Medicine
Fri 9:30-5:30 & Sat/Sun 9:00-5:00 (Central Time)

(that's USD $776)
Pay only CA$900 (that's
USD$660) with association discount code
after completing payment details and entering discount code on final payment page (USD depending on exchange rate)
Professional Praise for CIAM training
"...will transform your approach" | "...profound results" | "...supports our goal!" | "...I was moving with no pain!"
"This training may very well transform your approach to pain management"
Dr. Frank Yurasek, PhD,
L
Ac

Director of Acupuncture
Division of Pain Management
at Cook County Hospital
"With CIAM training, practitioners will learn the approach taught in Germany — a system that will bring profound results."
Dr. Beate Strittmatter,
MD

Director of Education
Deutsche Akademie für Akupunktur
(German Academy of Acupuncture)
"We focus on therapy resistant cases. We need a methodology that is effective in a short period of time, at a minimal cost. Auricular Medicine allows us to accomplish our goal!"
Mark Volmer, RAc, FMP
Level 2 CIAM Certified Student and Acupuncturist

"It's a complete paradigm shift! After an Auricular Medicine demo, for a severe disc extrusion that had left me painfully crippled for weeks, I was moving with no pain."
Dr. Allen Rodgers, MD
CIAM Student and Doctor of Emergency Medicine
Join us now for demo
Sign in to the CIAM learning platform (www.integrateauricular.ca) to see course details, review course contents, and explore the CIAM learning platform.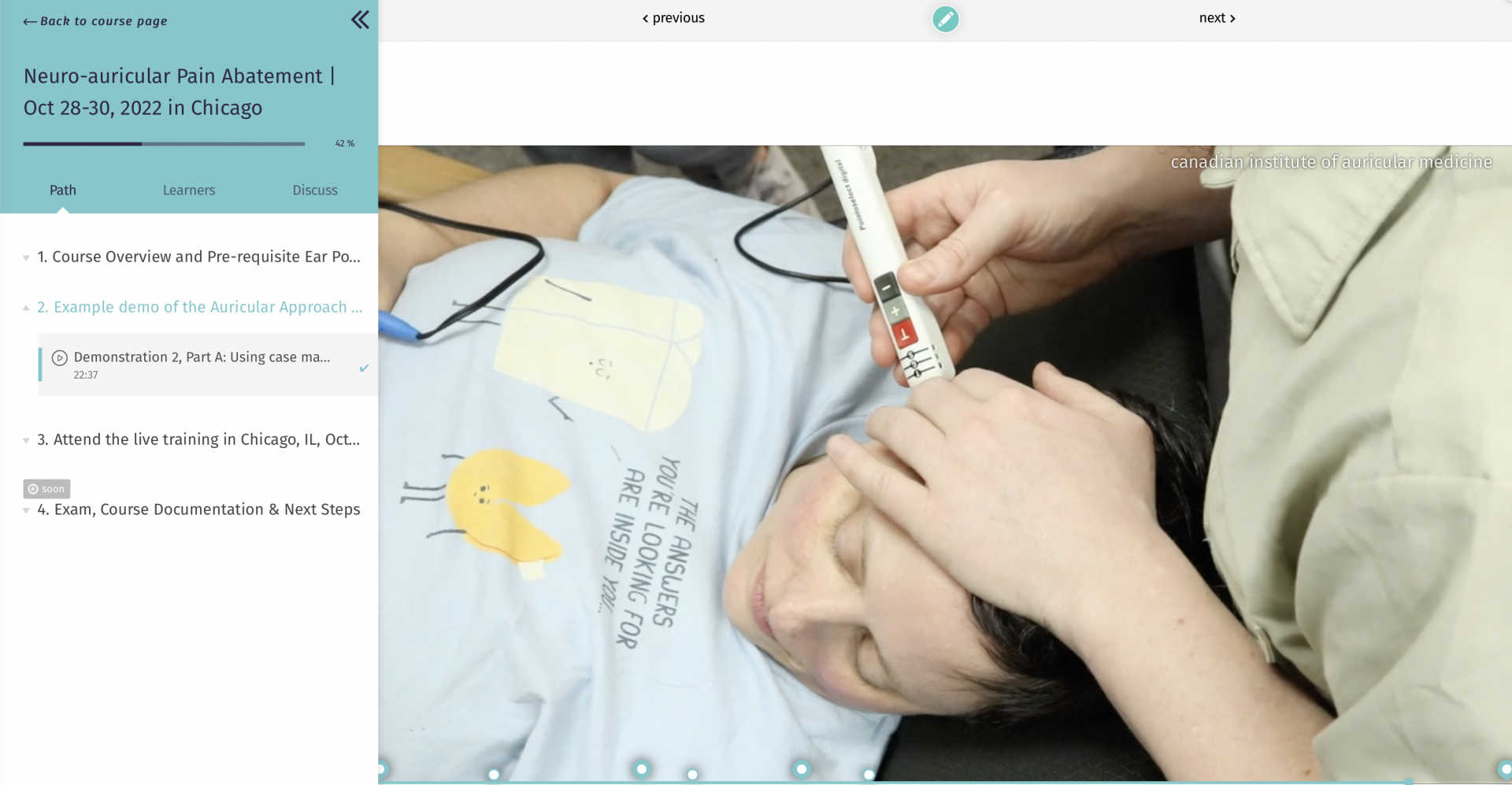 Complete Level 1 CORE Curriculum
for only USD$660*
An accelerated presentation of Level 1
— specialized for the assessment and treatment of factors that contribute to pain
Join live on-site or online for a 3-day intensive including theory, demonstrations, and hands-on practice covering Level 1 of Auricular Medicine! Plus, get FREE online access to the Ear Point Guide — the prerequisite foundation covering landmarks and 4 key categories of anatomical and functional points.
\Learnworlds\Codeneurons\Pages\ZoneRenderers\CourseCards
ADDITIONAL SAVINGS:
Pay CA$900 when you enroll with association promo discount code by Oct 21, 2022
— that's only USD$660*
*Depending on exchange rate at time of purchase |
Questions? Contact Us
CIAM Founder, Muriel Agnes, PhD, MAEd
Watch Dr. Agnes and CIAM students share the benefits of Level 1 training in Auricular Medicine.
CIAM Academic Director & Lead Instructor, Dave Maybee, RMT
Watch lead instructor, Dave Maybee, discuss the need for addressing neurological blockages in a patient case of resistance to cortisone, medication & physical therapy.
This live, pain-focused, presentation is the fastest and most effective way to get Level 1 training in Auricular Medicine with a specific focus on pain management...
Flexibility to attend live course components onsite (in person) or remotely (online)

29 CEUs (NCCAOM approved)

Interactive learning with self-assessments

Highly endorsed curricula
Bundle savings
This offer includes the Ear Point Guide at no additional cost
Pay only CA$900/USD$660!
Enter association promo discount code and enroll by Oct 21 for an additional CA$157 in savings — pay only CA$900/that's only USD$660 (depending on exchange rate at enrollment)!
A Window to the Brain
The auricular microsystem on the outer ear is innervated by the major branches of the nervous system, with reflex zones reflecting physical and psychological aspects of the mind and body. These points can be measured for electrodermal activity (EDA), and used by clinicians to prioritize and treat disturbed neural states using auricular needles (ASPs and others), transcutaneous electrical nerve stimulation (TENS), or low-level laser therapy (LLLT). You will learn a palpation to assess autonomic response, a means for insight to the central nervous system (CNS).
Evidence-based
The basis of evidence for neuro-auricular pain abatement has been presented by many authoritative sources: the American Academy of Nursing, the American Society of Anesthesiologists, and the European Academy for TCM (EATCM) to name a few. The U.S. Department of Veterans Affairs has recorded auricular treatment experiences from over 11,000 veterans. The current evidence basis is the result of an exponential growth in research, published across numerous journals, from Frontiers in Neuroscience, to Emergency Pediatric Care, to Military Medicine, and many others.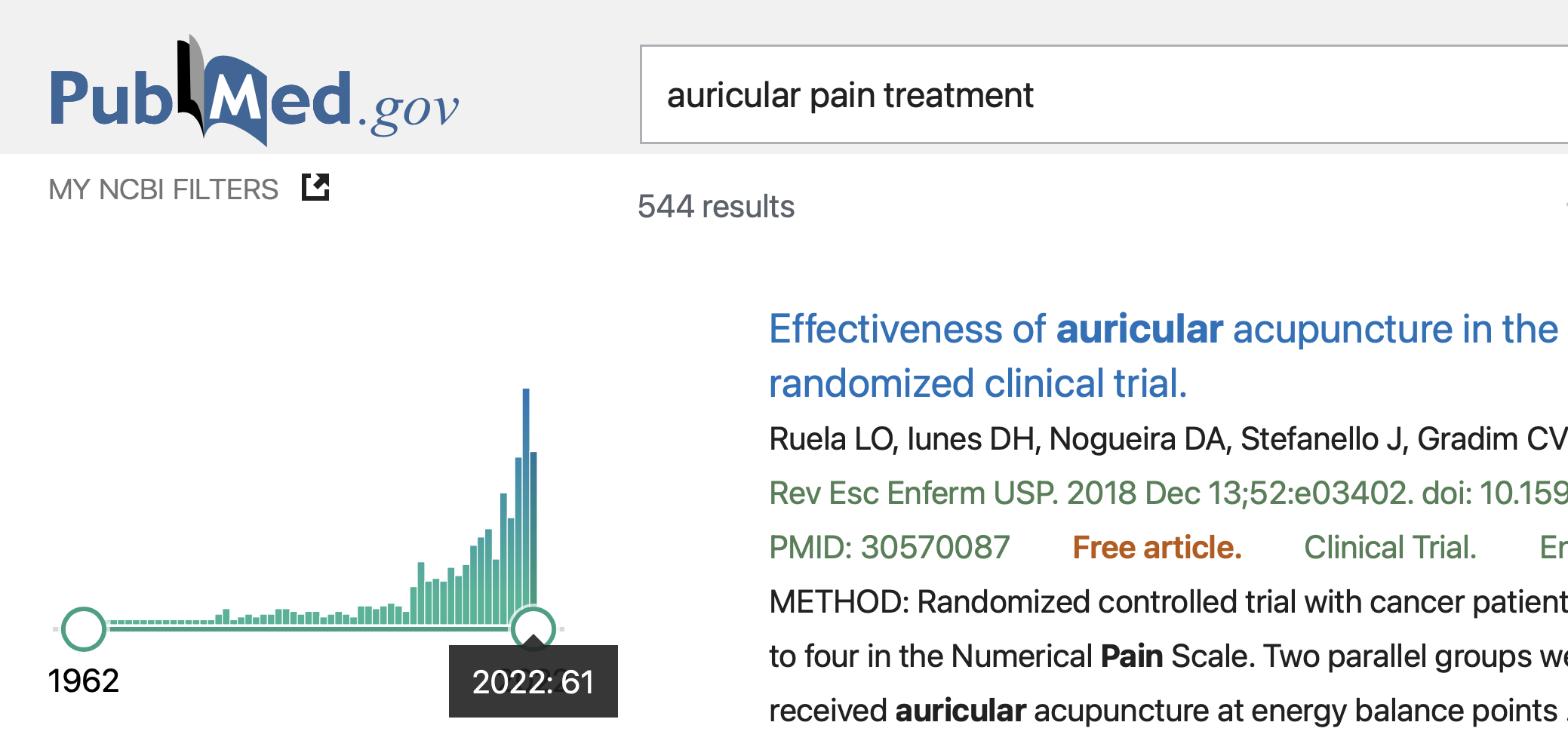 Recognized Training
The Canadian Institute of Auricular Medicine (CIAM) is a recognized CE provider that offers a curriculum endorsed by the Director of Education of the German Academy for Acupuncture (Deutsche Akademie für Akupunktur); recognition by NCCAOM as a featured education provider; and appointments by its directors on the board of the Auriculotherapy Certification Institute (ACI) and the Education Committee of the North American Neuromodulation Society (NANS).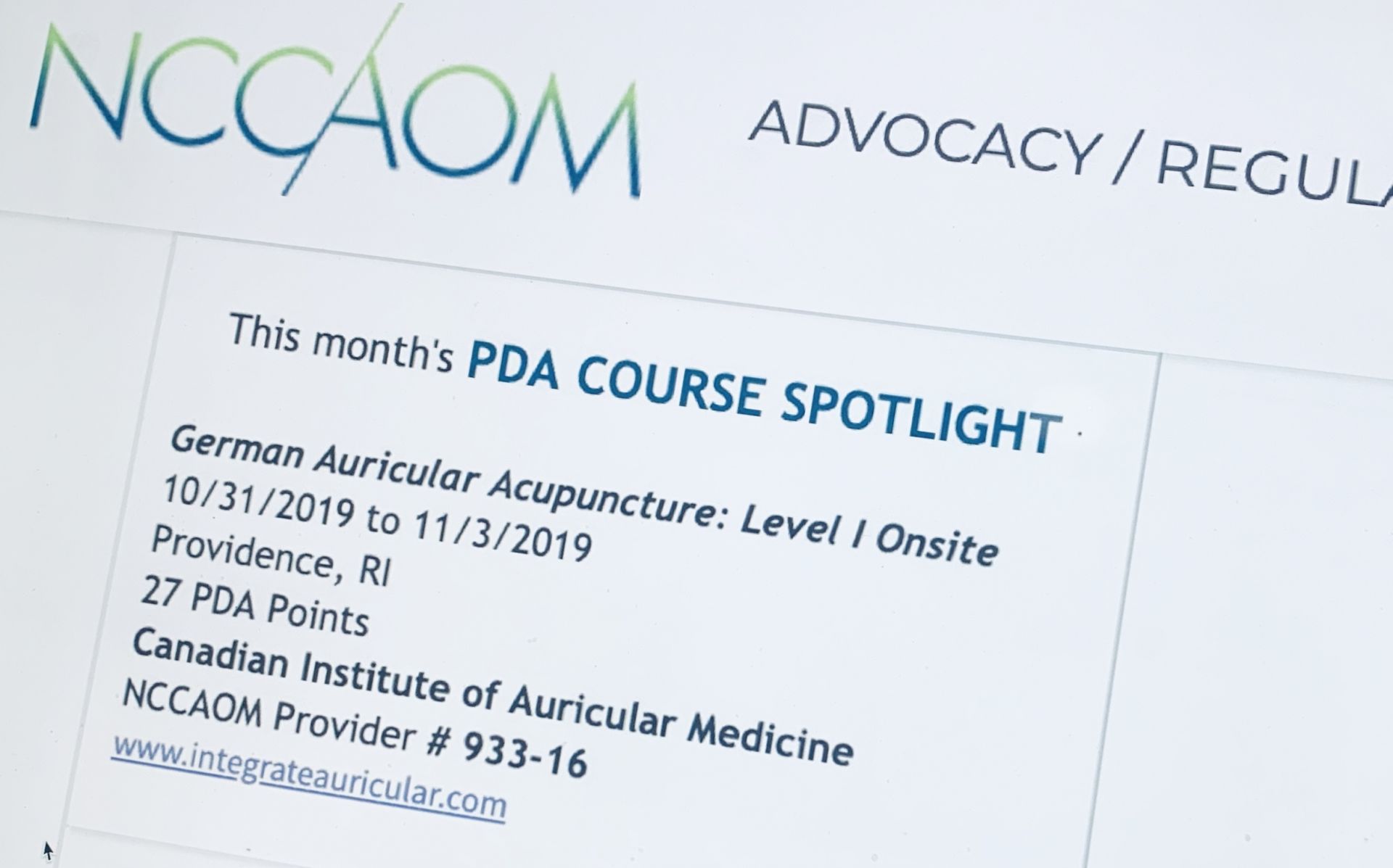 Go far. Go fast.
Comprehensive Auricular Training with online prerequisite and 3 days
live at the Chicago College of Oriental Medicine
Ear Point Guide + Master the Science of Neuro-auricular Pain Abatement | Enroll today, attend live...
Friday, Oct 28, 9:30am-5:30pm (Central Time)
Saturday, Oct 29, 9:00am-5:00pm (Central Time)
Sunday, Oct 30, 9:00am-5:00pm (Central Time)
that's only USD$776
(and with discount code you pay only CA$900/USD$660)
On enrollment you will receive course links with access to all course attendance details, materials, and associated online learning activities.